Introduction
Kiali and Tempo integration introduction and prerequisites
Introduction
Kiali uses Jaeger as a default distributed tracing backend. In this tutorial, we will replace it for Grafana Tempo.
We will setup a local environment in minikube, and install Kiali with Tempo as a distributed backend. This is a simplified architecture diagram: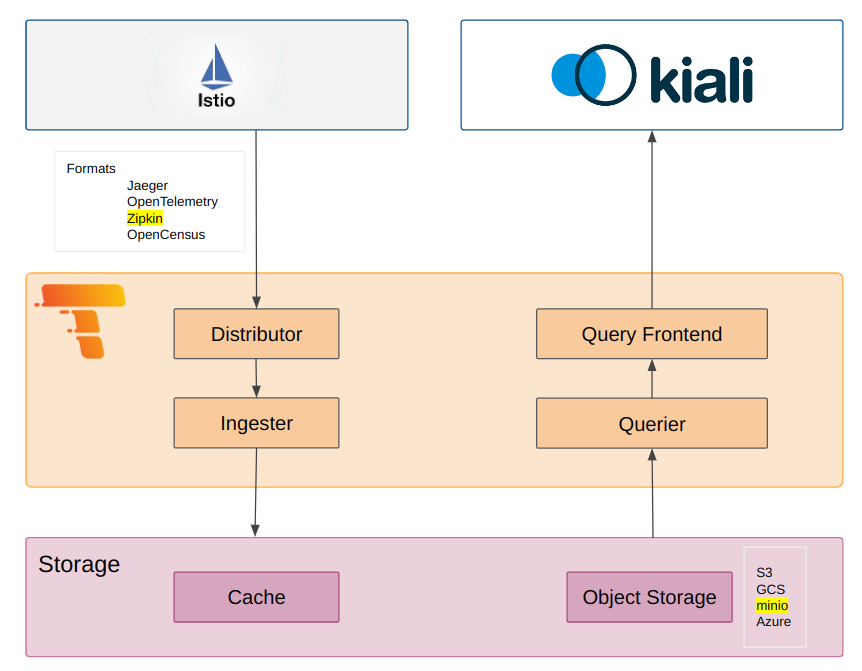 We will install Tempo with the Tempo Operator and enable Jaeger query frontend to be compatible with Kiali in order to query traces.
We will setup Istio to send traces to the Tempo collector using the zipkin protocol. It is enabled by default from version 3.0 or higher of the Tempo Operator.
We will install MinIO and setup it up as object store, S3 compatible.
Environment
We use the following environment:
Istio 1.18.1
Kiali 1.72
Minikube 1.30
Tempo operator TempoStack v3.0
There are different installation methods for Grafana Tempo, but in this tutorial we will use the Tempo operator.